GenerationS, the largest start-up accelerator in Russia and Eastern Europe organized by RVC, is summing up the collection of applications. In 2017, 3470 technology entrepreneurs qualify for the accelerator. The projects' geography covers 237 cities from 13 countries, including Russia, Great Britain, Spain, Italy, Czech Republic, Latvia, Belarus, Armenia, and others. All projects will undergo remote examination and face-to-face selection procedure. The best projects will take part in the accelerator, where they will be given the opportunity to finalize the project based on market needs. Following the accelerator results, the most promising projects will receive proposals from the GenerationS partners and venture investors.
30% of all the projects for GenerationS-2017 originate from Moscow (972 applications) and about 70% of applications were submitted by entrepreneurs from other Russian regions. The most active cities were: St. Petersburg (176 applications), Yekaterinburg (137 applications), Tomsk (123 applications), Irkutsk (106 applications) and Omsk (95 applications).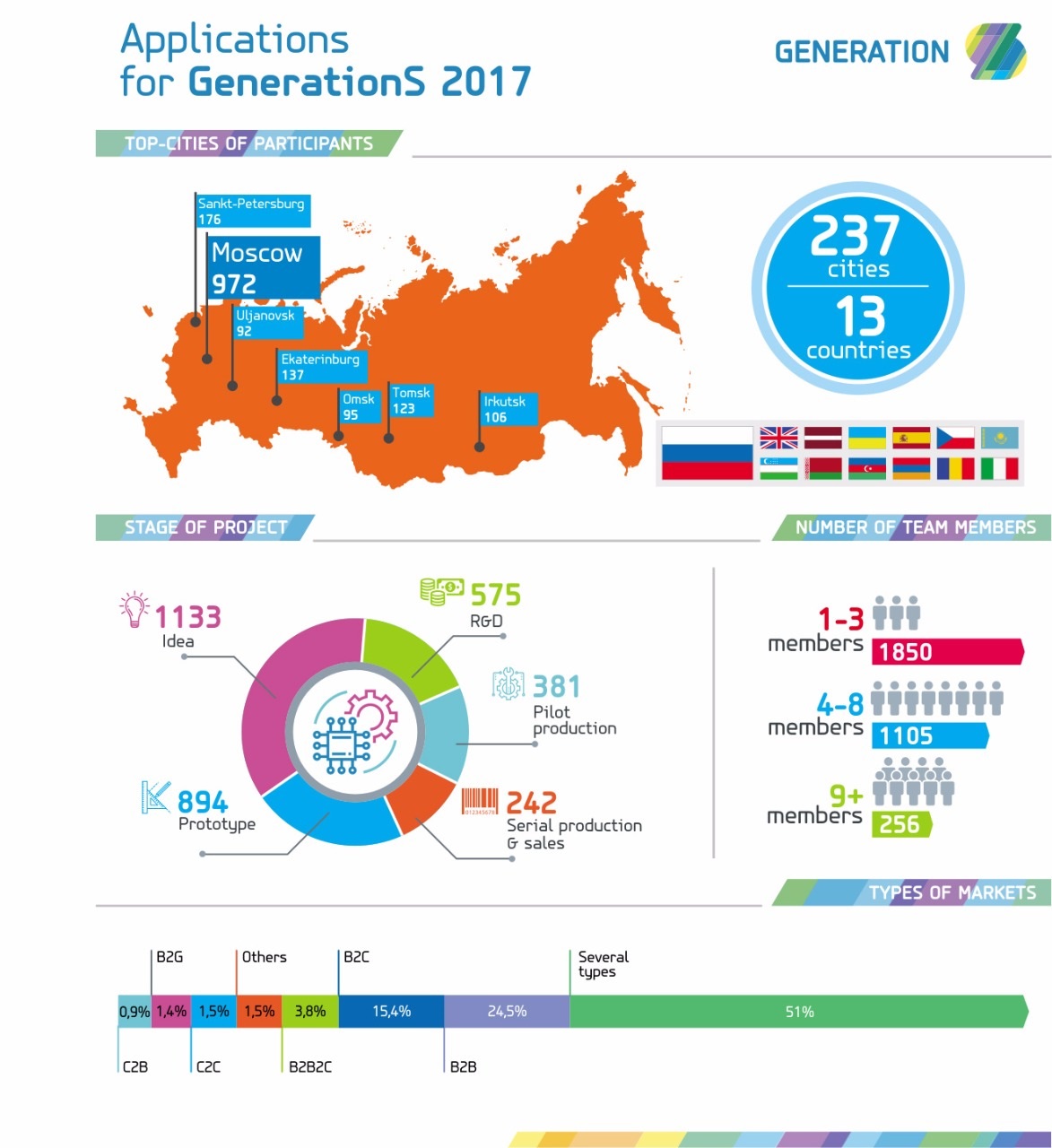 Projects for GenerationS were selected by industrial tracks. In 2017, the most popular track among start-ups was Agro & Medtech track, Creative track, which was the last year's leader, occupied second place, Power & Energy track – the third.
Applications for the tracks were distributed as follows:
849 applications for Agro & Medtech were filed by start-ups engages in activities to improve efficiency of agriculture, create "new food" and cosmetics and new medicines. The partner is NMGK Group;
829 applications for the Creative track were filed by start-ups specializing in  fashion and materials, media, neuro entertainment, sports and computer games, cinema and music, publishing, smart city, education and marketing. The industrial partner is Faberlic, the track's partner is STS-Media;
511 applications for Power & Energy track came from start-ups engaged in electric power and oil and gas industry;
399 applications for TechNet track were submitted by start-ups focusing on smart production systems and additive technologies. Industrial partner is UEC Saturn PJSC, the investment partner is RT-Business Development;
290 applications for Fintech track were delivered by start-ups dealing with high-tech in banking, financial services and products;
222 applications for Mining & Metals track were registered from mining and metallurgy start-ups. Investment partners are R&D Park and RT-Business Development LLC.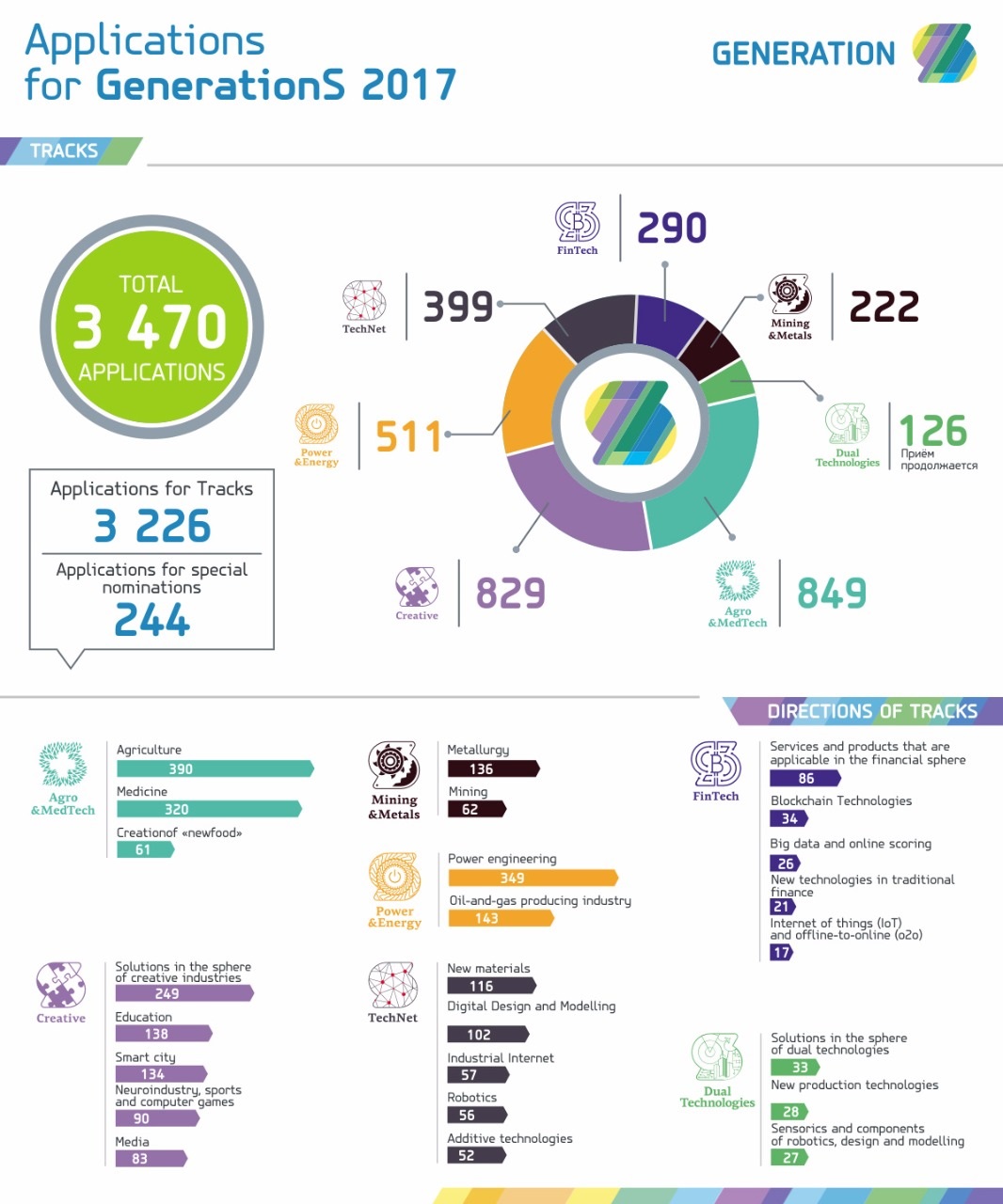 The selection of projects for Dual Technologies track will continue until December 31. The track is open for solutions in the field of dual-use technologies, civil technologies, which may be of interest to the military industrial sector. Industrial partner is Voentelecom, JSC, the track's partner is RusElectronics JSC, the nominations's partner is S.V. Ilyushin Aviation Complex, PJSC.
Most of the projects (35%) are just ideas, 27% have a ready-to-go prototype, 17% have completed R&D, 14% have been pilot-tested, 7% are under mass production or on sale.
The pre-seed and seed projects can enter the pre-accelerator as early as in mid-December. Pre-accelerator is an educational tool to ramp up early-stage start-ups by means of online and offline educational activities intended to improve the quality of projects and bring them to the next development stage. In the end, the program's best participants will have the opportunity to present their projects to investors, representatives of development institutions and corporations and to receive an invitation to face-to-face selection procedure in the GenerationS-2018.
"GenerationS has proved again that the "process" innovation resource is far from being exhausted in Russia. Over six months since the start of selection procedure, more than 3000 technology start-ups, which are mostly based in the regions, have shown interest in developing their businesses. This clearly points to rapid evolution of entrepreneurial culture in our country," said Ekaterina Petrova, Head of GenerationS accelerator.
The receipt of applications in six industry tracks is completed, but technology entrepreneurs can still take part in special nominations and Dual technologies track, which continues to receive applications until December 31, 2017. Until February 9, 2018 the projects can be submitted to the nomination "Biotechnologies and genomics in the agro-industrial sector" established by EFKO Group. Before April 1, 2018, start-ups can apply for nominations established by the Working Groups of the National Technology Initiative: NTI Neuronet, NTI Healthnet and NTI Marinet. As of November 14, more than 110 technology projects qualify for NTI nominations.
The GenerationS final will be held in April 2018, the prize fund will amount to RUB 15M. Apart from attention that will be given by the accelerator partners, the best projects will receive grants from the Innovation Assistance Fund.